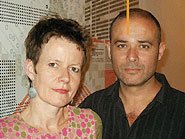 The following is a text about an exhibition at Medialab Madrid, by former curators and directors Karin Ohlenschläger and Luis Rico. It was originally published in a minima:: issue 15.
This PDF file is released in collaboration with a minima:: new media magazine, published in Spanish and English. For more information, please visit aminima.net.
Download the PDF in English and Spanish
The project Digital Transit sets out to examine the interconnections between art, science and technology, and the social dynamics that are generated around them. It passes through permeable spaces that provide productive interferences between imageries, concepts and different methods. Overall, it offers a transdisciplinary approach, which we understand as a means of interpreting, exploring and participating in the complex fabric of relationships that forms the basis of contemporary culture. Consequently, Digital Transit is a space for communication that links the current informatics and telecommunications technologies with the visual, sound and scenic arts, architecture and urbanism, science, education, civic participation and the environment.