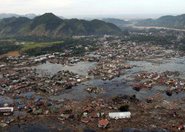 22,464 Dead(official); 100,000 Dead(estimated); 41,054 Missing (official);1 million Homeless (estimated)
We are NICA – Networking & Initiatives for Culture & the Arts – an independent, artist-run and not-for-profit resource development and cultural organisation, the first to work inside Burma (Myanmar) since 2003, with a history of researching and networking inside Burma dating back to 1997.
NICA are putting out this open call for support and donations to be given directly to grass root organisations and monasteries inside Burma which are actively providing hands on aid to the victims of cyclone Nargis.
NICA are providing an alternative way of channelling aid to the victims. We are aware that by now at least USD 30 Million of aid (materials) has been pledged by the international community, but knowing the bureaucracy inside Burma and the conditions attached by donors, only a fraction of this will reach the victims. The account provided here is the private account of NICA in Singapore and funding will be transferred within 24 hours directly to organisations inside Burma through the private network of the Burmese community in Singapore.
The first organisation that NICA will channel the fund to is "Health and Death Assistant Association" in Yangon (Rangoon) managed by a monastery.
Account details:
Beneficiary Bank Name: MALAYAN BANKING BERHAD
Beneficiary Bank Address: 14/F 2 BATTERY ROAD, MAYBANK TOWER
SINGAPORE 049907 SINGAPORE
Beneficiary Bank SWIFT Address/BIC: MBBESGSG
Beneficiary Account Number/IBAN: 14180294701
Beneficiary Name: CHU CHU YUAN
Please be aware that the bank charges across borders can go up to between USD 20 -30. There are no charges for transferring from Singapore into Burma. Alternative low charges transfer can be made through Paypal. Our account: ifima@gmx.net
For more information about NICA, please visit NICA's webpage, which is kept to a minimum, to allow access from inside Burma, at:
http://www.artstreammyanmar.net/cultural/nica/nica.htm email: nica@mail2art.com
related news:
http://bangkokpost.com/topstories/topstories.php?id=127541
http://www.channelnewsasia.com/stories/afp_asiapacific/view/346390/1/.html