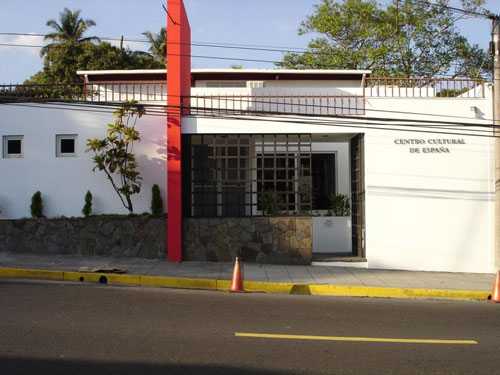 Front of Cultural Center of Spain in El Salvador
Image source: Cultural Center of Spain
Cultural Center of Spain invited me to lecture in San Salvador, El Salvador from March 8 to the 13, 2009. During this period I also learned about the contemporary art scene as well as the art history of El Salvador.
I presented my research on Remix at the Cultural Center on March 10, and I lectured on art and new media in the Department of Visual Arts at the University of El Salvador (popularly known as La Nacional) on March 11. I met artists from different generations, some who are becoming more established, and some who are up and coming. I also visited the Museum of Art (Marte) which currently is exhibiting a thorough survey of Art in El Salvador since the 1800's
The Cultural Center introduced me to young artists who work in diverse media, including installations, painting, performance, photography, video and web development. The work was extremely diverse, and well informed about international trends. I asked the artists about their training and they explained that it was very traditional. They also added that they are aware of contemporary art practice in large part thanks to the ongoing exposure that the Cultural Center of Spain offers by bringing artists, curators, and writers under the ongoing thematic of "Curating Latin America," the same platform on which I was asked to participate. Artists have also developed collectives to support their particular interests. I was able to meet a couple of them. One is Artificio (Artifice), a group of young artists who came together with the goal to organize workshops and lectures that they themselves coordinate. The aim is to develop an informed opinion of what is taking place not only in the country but also in the international scene as well. Many of the members have participated in exhibitions throughout Central America. There appears to be a thriving exchange in this area, in particular between Costa Rica, Guatemala, Honduras, and Nicaragua.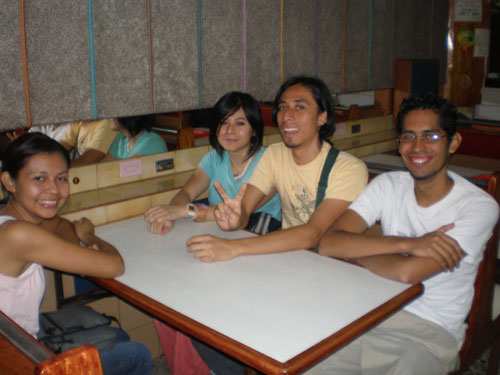 Four members of the collective Artificio about to eat pizza with loroco (a local Salvadoran flower) at a popular pizza restaurant in the downtown area of San Salvador.
Members of Articifio (as listed on their main website): Malcriada Victoria, Jaime Aguirre, Natalia Dominguez, Samadhi, Victor Rodriguez, Claudia Olmedo, Dalia Chevez
Another collective that I met is La Fábri-K (pronounced "la fabrica" meaning factory). The name comes from their studio space, a former factory located on the outside of the capital in which electric batteries were assembled. This group is open to artists of any generation, but for the most part its members are of an older generation and more established, some enjoy international attention. Many of them lived or were affected by the twelve year civil war which took place between 1980 and 1992. Their work is informed by some of these issues as well as the current politics, and gang violence. Other members have focused on representational or abstract work that at first glance might appear to reference previous movements in the international scene, but with an open mind one realizes that the works are reactions to local preoccupations. All subjects are tactfully approached with a well calculated critical distance and a strong awareness of historical precedents. Like members of Artificio, these artists have come together to support their diverse practices. Many of them paint, but their approaches and sensibilities offer a dynamic contrast of media from printmaking to installation work as well as online projects.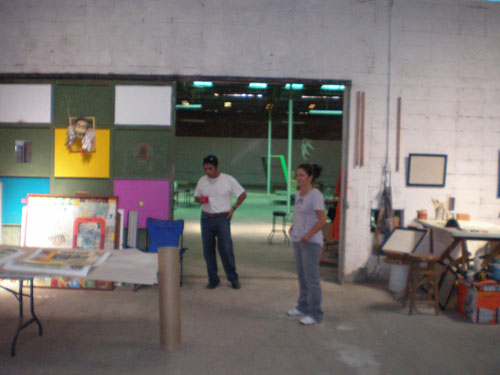 Two members of La Fábri-k, Baltasar Portillo and Mayra Barraza, at their spacious studio.
Members of La Fábri-k (as listed on their website): Luis Lazo, Romeo Galdámez, Mayra Barraza, Francisco Zayas, Baltasar Portillo, Amber Rose, Giovanni Gil, Fredis Monge, Jenny McGee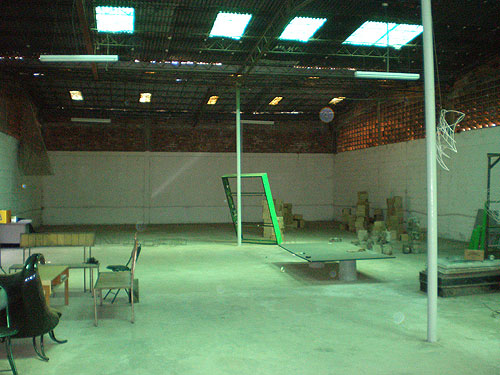 Experimental installation space at La Fábri-k. The collective plans to establish an artist in residence program in the near future.
I was also gracefully hosted by the director of the Museum of Art (Marte), Roberto Galicia, who gave me a tour of the current art exhibition titled "re-visiones: encuentros con el arte salvadoreño" (Re-visions: Encounters with the Art of El Salvador). The exhibition includes selected works from artists since the 1800's. To expose the complexity of migration and immigration in the country and conventional notions of nationality, the curator, Jorge Palomo, opted to include work by artists who are of Salvadoran nationality who live or lived abroad as well as artists of different nationalities who opted to take long term residence in El Salvador. This curatorial decision exposes the complexities of the cultural shifts of El Salvador over two hundred years. The catalogue promises to be a valuable contribution to the understanding of the art of El Salvador. It is well researched, and offers a number of eloquent essays which reflect on the multi-cultural layers of El Salvador in relation to the art movements throughout Latin America.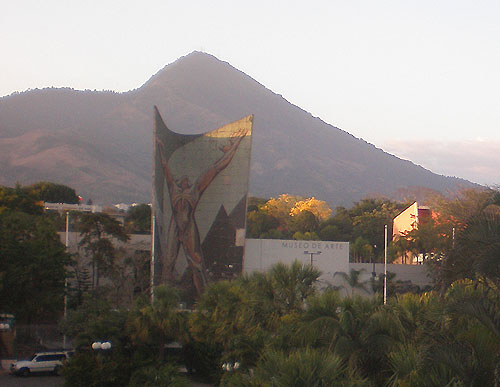 Monument to the Revolution (1948-56) by Violeta Bonilla (1924-1999) and Claudio Cevallos (information unavailable). Monument is next to the Museum of Art (Marte).
Museum of Art (Marte): http://www.marte.org.sv/
I was also able to meet other artists who work independently, they include Boris Ciudad Real, German Hernández, Alexia Miranda , Antonio Romero, and Danny Zavaleta. I also had the pleasure to meet Maira Maroquin, director of clic.org.sv, an online resource devoted to art, media and communication.
Finally, I visited other cultural centers, including the archeological site Joya del Cerén, which is a unique place where we can learn how Mayan farmers lived. The site was covered with volcano ash and debris during an eruption of the Laguna Caldera Volcano c. AD 600. The site was discovered in 1976 and was opened to the public in 1993 according to the information provided by my guide.
My brief visit to El Salvador gave me energy to look forward to the future of art practice not only in the Americas, but around the world. The current state of production in El Salvador is ripe for more international attention. With the efforts by institutions like the Cultural Center of Spain in El Salvador in collaboration with the Museum of Art, great opportunities already begin to appear for local artists to become more established internationally. I'm glad to have been invited to experience this ongoing process, which will hopefully be written about by previous and future visitors invested in art and culture.
My many thanks to the Director of Cultural Center of Spain in El Salvador , Juan Sanchez, and Assistant Director, Mónica Mejía for making my visit possible.