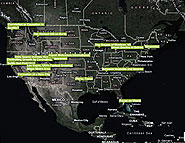 Originally published in Metalocative.org, republished with permission.
The two main parameters of locative media are location sensitivity, mostly expressed as longitude and latitude, and time. Locative Media has been developed following the theoretical model of maps. Since their inception, maps have been used to reveal special relationships and realities, and by their mostly static nature, they represent a particular slice of time. With the introduction of web-based mapping new opportunities have arisen, such as revealing spatial data through time. This is a novel direction in locative media – time-based mapping.
Hindsight by Trulia is one of the most poignant examples of time based mapping of information. It allows exploration of historic data in more than half a dozen cities and communities within the United States. The map shows the spatial distribution of real estate related data distributed over time and territories. The experience is both entertaining and informative.
Hindsight is a mapping tool designed to compliment Trulia, a popular real estate listing site, created by Stamen Design. The basic schema includes a map-based context, where one is offered to select among various cities and communities within the continental United States. When selected the map zooms in and an animation of the localized data activates the map in a form of expanding and contracting colored dots. The animation could be stopped and advanced on a year-by-year basis. The central navigation, incorporates color and scale visual clues corresponding to the overlaid data. By sliding laterally one can evoke the overlay for a specific year. Additional tools include the customary map zooming feature and a map brightness controller, which could affect both the aesthetic and utilitarian functions of the overall viewing experience. The site was prominently showcased during the 2007 Where 2.0 Conference in San Jose, CA.
Hindsight is not an art piece, though it offers engaging and informative encounter. At a first glance any subset of a commercial website would be just that. Nevertheless it offers experience that goes beyond pure utility. Functioning within the context of commercial services it offers a contemplative interaction, where one could discover relationships between properties within locals. While the interaction options are relatively minimal their innumerable combinations offer captivating experiences.