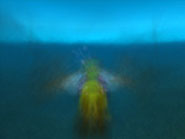 Mike Caloud
Flight: Stormwind City to Duskwood
Gallery opening: Living Information, an investigation of the aesthetics of networked informational spaces, in conjunction with UCSD MFA Open Studios.
La Jolla, California – Friday, April 6, 2007- Living Information, a group show by MFA candidates of the University of California, San Diego. The public is invited to attend the gallery opening and reception at The Marcuse Gallery in La Jolla, Friday, 2pm–8pm.
Our lived experience is increasingly defined and augmented by informational spaces that exist on our computers and networked devices. This experience modifies the nature of the self, the nature of the social, and the very nature of the informational architectures that are being inhabited.
Contemporary media artists must now engage with these informational forms. Their medium lives in the condition of the digital and the network. They are now looking at the emergence of new aesthetics within the organism that holds our Living information.
This show deals with informational technologies, social networking sites, interventions in search engines, snapshots of the personal in the social setting, chance algorithmic encounters, and visualizations of conscious, networked systems. These artists are working with infiltrating, subverting, and investigating MySpace, YouTube, Google, World of Warcraft, and other connective informational states within the realm of Living Information.
Artist websites:
Carl Burton
Mike Caloud
Derek Lomas
James Enos
Kael Greco
Owen Mundy
PG Toys
Katherine Sweetman
Robert Twomey
9500 Gilman Drive, La Jolla, California. The Marcuse Gallery is located in the Visual Arts Facility, UCSD.
For information and directions: http://ucsdopenstudios.com/2007
Contact: me@katherinesweetman.com
Phone: 619-838-7666