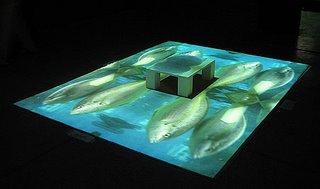 Image: fishes swimming on carpet
Wandering down the halls and inner forking paths of the Centro Cultural Recoleta (CCR) in Buenos Aires is a pleasant experience, every door leads to some type of art display that stimulates the senses. These days, however, there is a special door at the CCR. One that leads to a puzzling world that conjures up unlikely images in a household space.
The first thing one notices when entering this exhibition is darkness, then water. Lots of water. Projected water. And then one starts to see the patterns, pulsating. There is a choreography taking place in this submersion, schools of fish swim on the surface of sofas, tables, carpets, windows. Dancers, or better said, submarine dancers composed of animals plus hands, feet or heads of human characters gracefully move along with other aquatic animals, all contributing to producing a hypnotic effect on the viewer. The playful, humorous nature of the display and the beauty of the submarine choreography are striking.

The pieces of this immersed puzzle start coming together when one learns that the artist behind the exhibition is a renowned choreographer who directs a contemporary dance school, and that she is also co-founder of Nucleodanza, a group known for its inventive approach towards dance theater that has performed in over 100 venues around the world. This artist is Margarita Bali, a restless, multi-faceted person: she is a choreographer, professional dancer, video and installation artist, who has turned to using the image in motion to further experiment with movement, timing, choreographies and framing. Another piece of the puzzle: Margarita is also a biologist, she received her degree in Biological Sciences from the University of California at Berkeley. When having a conversation with her one can perceive an ability to see reality with fresh eyes, those of a child, or maybe a sociologist. She seems to question everything that is in front of her, probably the person who is writing this very article too. But she fortunately does so with kindness.
"I've always considered furniture to be something overly artificial, something clearly invented that we happen to accept as normal", says Margarita. "We see chairs as the most ordinary things in the world, as well as a sofa, and the framed picture one hangs next to it on the wall. It's all an arbitrary construction from society that has lasted in time. People live that way (…) and when we have those things it's established that that's the way we live. I wanted to play with the idea of bringing something natural to something that was artificially conceived."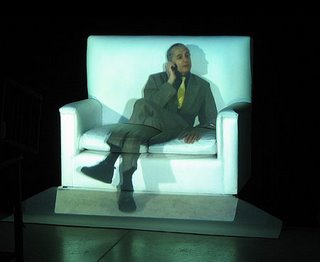 Image: "From the Sofa" – virtual performance on armchair
"It all started with experimentation", says Margarita, "In the Palacio Pizzurno project (see link), I mixed projections of dancers over the façade of a building along with live choreographies, taking place in the same building. So now I wanted to experiment with projecting on volumetric spaces." This experimentation led her to play with filming hands moving over vases of porcelain and then projecting that footage on the same objects that were filmed. This in turn led her to test different textures, motions, rhythms on the vases. And then to try those projections on different objects.
"I imagined a living room, that was suddenly swept and covered by a wave and then when that wave retreated it left all the elements from the sea in it."
Another interesting section of the "Acuario Electrónico" is the performance of the second living room, where actors are projected on a sofa, while sync footage is shown on a window next to it. Fabrics, cushions and hands show up on the sofa, which is used as canvas, and then a complete projected human performance, which was originally filmed on the same sofa, takes place, audio included.
"It's like a game, like the 'trompe l'oeil' (trick the eye), which I found fascinating, so I kept researching the subject", says Margarita.
As could've been expected, as she relates the inner workings of the "Acuario Electrónico", she reveals that this latest project has already brought her new ideas to work on, new avenues of research. It is clear that curiosity and inspiration go hand in hand, and Margarita has plenty of both. All the better for us, then, we'll be waiting to see what new wonderful worlds she comes up with for us to enjoy.
El Acuario Electrónico
Original concept, video, editing: Margarita Bali
Original score: Gabriel Gendin
Camera assistant: Soledad Gutiérrez
Actors: Loreley Postolovsky, Sandro Nunziatta, Soledad Gutiérrez, Amalia Pérez Alzueta, Ariel Jaenich, Edgardo Mercado y Cristina Cortes.
More information on Margarita Bali's work can be found at MargaritaBali.com.
Text & images: Pablo Hadis
The author may be reached at:
pablo_at_animwatch.com
Pablo Hadis is a Buenos Aires-born filmmaker, journalist and independent
curator. He is editor in chief at the Max Underground CG website, has
published extensively in print and online media and holds an MFA in Visual
Arts from the University of California, San Diego.