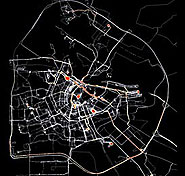 Note: Given the current popularity of GPS systems, NMF is excited to feature this brief review by Ludmil Trenkov on "Amsterdam Real Time," one of the most important GPS projects in new media's recent history.
Originally published on Metalocative. Republished with permission.
The introduction of Global Positioning Satellites (GPS) for non-military uses has invited practitioners of many arts to conceive and implement new and interesting ways of use. The GPS technology helps locate one's position in the world. When that position is continuously tracked and charted digitally – a trace-map is born, which is typically a record of one's daily special whereabouts.
Amsterdam RealTime is a trace-map concept recording the movements of volunteers who were asked to carry a GPS enabled wireless transmitter with them. The map is closer to the record of psychogeographic experience than a precise cartography. The whereabouts of users were recorded over time and compiled together on a screen.
Amsterdam RealTime was commissioned for the exhibition Maps of Amsterdam 1866-2000 at the Amsterdam City Archive and was produced by Waag Society and Esther Polak. From October 3 to December 1, 2002 all Amsterdam residents were invited to participate to create a contemporary version of a mapping experience. The premise of the piece is based on the assumption that all citizens of the city hold an invisible map in their heads. The project tracked 75 volunteers for 40 days going about their typical daily routines. All traces were generated via GPS and transmitted over GPRS (2.5G) connection to a Waag Society administered server. The traces were drawn as white lines over black background with thicker and brighter lines indicating greater frequency of travel. Naturally, all street tracings started as black screen and were illuminated by continuous tracings of real world activity. It became apparent that different residents "drew" different trace maps based on their means of transportation and purpose of travel. Once they became fully aware of their mapping outcomes some
even attempted to create artful GPS drawings. The accumulative traces of all participants overtime rendered a truly compelling map of large section of Amsterdam, where the most visited parts were shown in red. All participants received a printed copy of their trace screens. The project rose to such prominence that requests from Brussels, Lisbon and Paris were conveyed, which prompted Waag Society to consider releasing an open source version of their software. Furthermore, the project was reconstituted in Riga Latvia, as RealTime Riga in collaboration with RIXC.
Amsterdam RealTime stands out as a seminal project demonstrating keen spatial affinity between urban residents and the city they inhabit. As one of the early examples of GPS drawing concepts the trace images and their method of generating suggested a compelling new way of using readily available commercial technology such as GPS receivers and GPRS networks. On one end the project allows the tracked individuals to become more aware to their whereabouts, on the other it demonstrates visually the commonality of daily patterns, thus revealing a new form of shared experience.