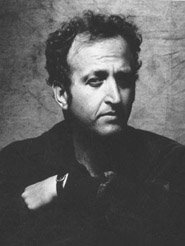 Image source: Realtime on Screen
This text is republished in collaboration with Rhizome.org. It was released in Rhizome Digest on 11/21/07 and appears here as it was originally posted.
+ [Rhizome] Editor's Note: Rhizome originally planned a Summer of Books editorial project that would deliver a handful of reviews and interviews to your inbox, over the Summer of 2007. It turns out that people would rather play on the beach than review books in the warmer months, and the project evaporated like a summer dream. But this interview between new media artists Rick Silva (ricksilva.net) and Mark Amerika (markamerika.com) still cried out for publication.
Rick Silva: Where are you right now?
Mar Amerika: I'm in Falmouth, near Land's End, Cornwall, UK. It's the perfect location for my second feature-length "foreign film" as part of my Foreign Film Series. The first one, "My Autoerotic Muse" was shot in New York City on Central Park West. Muse was made with HDV technology, was seeded at Sundance two years ago, and is in the final stages of postproduction. This new one, "Immobilite," is being shot entirely on mobile phone and is being seeded by the Tate Modern and the iRES research group at the University College Falmouth. Once you get on some of these country roads in Cornwall and start driving by these dramatic cliffs overlooking the vast sea, you realize why some say it feels like the absolute end of the Earth.
RS: Your new book META/DATA is a collection of your writings on the web over the last 15 years, why in book form and why now?
MA: Well, it's only partly my web writings. META/DATA is a mix of writing that includes spontaneous artist theory, short fictions, scholarly investigations, and dialogues with other artists that I've been improvising over the last 15 years. Some of it has been previously published online, but a lot of it has also appeared in print. There are also collage-styled experimental essays pieced together from various keynote presentations and seminars I've delivered over the years.
One of the things I discussed with Joel Slayton who was then editor of the Leonardo Book Series, and Doug Sery at MIT Press, is that I felt like there was a lot of writing out there that was valuable for its techno-theoretical context and did a pretty good job of reporting on the emerging new media scene and the effects new media technology is having on the culture at large, but that it might also be valuable to publish a collection of writing by an artist who, while having a background in net art, is also a published novelist and experimental essayist, someone who could blur the difference between fiction, memoir, theory, conceptual art document, and scholarly writing. MIT has a reputation for publishing these kinds of collections with artists who come from other scenes like Carolee Schneeman, Robert Smithson, Vito Acconci, Martha Rosler, Mike Kelley, etc. Fortunately, they read my prospectus and early excerpts, and agreed to publish it. So I have been piecing together this!
book for the last few years. Because I've been moving around a lot and activating my "digital art personas" in many parts of the network art culture, the book is finding a diverse audience. For example, right now, the European VJ and live A/V scene seems to be attracted to it. I just heard from a colleague who will include it in their graduate course on World Literature. And of course, the net art world is likely to find it useful too.
RS: How does writing influence your artmaking and vice versa?
MA: Writing is where it all begins. Writing, for me, is like hacking into virtual space and shaping the world I live in. It can even be prophetic, as Burroughs says. Not in the sense of writing down "I will win the Lotto tomorrow" and then it happens (although that's cool too — drinks are on me!). Rather, by intuitively tapping into the creative unconscious, one can oftentimes reveal an image of themselves in the world that they may have never visualized before. I can do this by writing. Others draw, or paint, or play sax.
Look at my character in GRAMMATRON, Abe Golam. GTRON turned ten years old this June. I wrote it as a multimedia hypertext in 1993-1997. The story of GTRON takes place way in the future and is partly about a cyborg-narrator (Golam) who was once part of a net art scene that collectively hacked itself into the mainstream art world and changed art history. But this was 1993, before anyone really had a clue that that would actually happen six or seven years later (I'm still waiting for the film "2000: The Year Net Art Broke"). Abe Golam, it ends up, was the first net artist, albeit a fictionalized version of one that precedes what we now know of as the early history of net art.
Of course, in my current Foreign Film Series, writing is still at the core of my project as the narrative is driven by the subtitles which reveal the disappearing persona (protagonist) who hovers over the scene. For example, in the first film, "My Autoerotic Muse," this invisible protagonist obsesses over the web cam performance of a very well-to-do European writer who lives on Central Park West and uses her web cam performance as source material for her research. This is all revealed in the subtitles, even though we spend long moments throughout the film looking at her web cam image ourselves.
RS: You also have a background in filmmaking, could you talk about your use of (moving and still) image and text?
MA: As an undergraduate, I studied with Alain Robbe-Grillet, a major figure in the French Nouveau Roman literary movement and who also was then securing his reputation as an experimental filmmaker. He wrote very erotic books, was the principal collaborator on Resnais' Last Year at Marienbad, touched off a wave of artist-generated theory, and his own films, like Glissements Progressifs du Plaisir, were very influential on my impressionable mind back then. At 19, I decided that I would leave the University of Florida, where I was studying creative writing and literature at the time, and move to L.A. to study film at UCLA so that I too could make my erotic art films. Very naive, yes? But I learned a lot while at UCLA and made some life-long friends including Nile Southern who has helped me direct the cinematography on the Muse film. It took me 25 years, but now I am making my foreign art films, although not as movies per se, rather, I see them as unique works of moving visual a!
rt that are adapting to the changes taking place in network culture. Most people who will be reading this interview know exactly what I am talking about, that is, what is the difference between cinema, digital narrative, net art, video art, VJing, and mobile blogging? Recognizing the differences while simultaneosuly blurring them into a hybridized art practice that I call "postproduction art" is where a lot of contemporary art and writing is shifting to these days. I have been working in all of these areas for the last 25 years and yes, there's a difference in technology and even methodology between the genres and formats, but going back to your previous question, I am able to shift between these media and mediums quite fluidly because at root, I approach them as a writer, a hacker, a semiotic codeworker.
RS: Will Abe Golam be running for president in 2008?
MA: I have been consulting with him. I did a lot of his speechwriting and took on the press secretary duties for the 2004 election and found it gratifying work. I believed in his candidacy, thought he was the right avatar for the job, and felt deeply connected to the mission which was to oust the current administration and implant a virtual government. He's in a position now where I think he can patiently wait and take his time deciding if he thinks his entry into the race would be best for the country. He could easily come in later, after all of the other announced candidates have essentially tired themselves out. He is well-positioned to take advantage of the netroots political environment to spread his memes and generate huge Facebook, Myspace, flash-mob, and meet-up support. It would be great if he did. But I also know that he's enjoying his life outside of mainstream politics and may not want all of the attention that an active campaign would bring. That's all I can say!
right now.