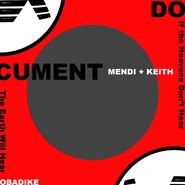 The following are online and offline projects which have been circulating in various online communities. They are gathered here in no particular order.
Document by Keith and Mendi Obadike
(Image above)
http://www.documentelegy.blogspot.com
DOCUMENT is the new summer single by Keith and Mendi Obadike. Side A is "If the Heavens Don't Hear (A roller skating jam for Marian Anderson)". Side B is"The Earth Will Hear (for Audre Lorde and Marlon Riggs)". The song titles come from an English translation of an Igbo proverb: "Si kele onye nti chiri; enu anughi, ala anu."
————-
A Proboscis StoryBox
http://proboscis.org.uk/storycubes/
http://diffusion.org.uk/?p=374
We are very excited to announce the publication of our first 'StoryBox' of digitally printed and die-cut StoryCubes: an 8 cube set printed on both sides which enables people to explore Proboscis – our projects, themes and ideas – in three dimensions.
This is the first of a number of StoryBoxes which we will be publishing in the next year. Future ones include creative works by sound artist, Loren Chasse; a special set on our Snout project; a 27 cube set about Social Tapestries and a new edition of the Gordon Pask cubes, first shown last year in the Maverick Machines exhibition, Edinburgh.
————-
Replicating Architecture by Chiara Passa
http://www.chiarapassa.it/replicatingarchitecture.html
For the series digital art in public space: "Replicating architecture" is an interactive video installation that I'm developing for a
site-specific place. The time is variable. "Replicating architecture" shows how the net art feeds (for example the rhizome news at: http://feeds.feedburner.com/rhizome-art) can influence and reshape an architecture placed in a real urban environment. In fact, through the patch 'RSS Downloader' in Quartz Composer, I can manage the rss feeds received from a web site and convert them into a sort of variable texture that I've constructed and shaped as a dna structure. It is made by aggregated lines connected to a several other patches that determine: phases, amplitudes, light environment, colours, xyz rotations, etc…
As the DNA configuration is vertical, I've selected a tower or an obelisk for the projection. In this illusory dimension, infinite lines generating emptiness and distances are "attracted" and skimmed one with the others, fading. Thanks to the Net-Art news, the architecture becomes an essential structure that draws a sort of fluctuating original human structure always in transformation.
————-
Virtual Chef – Birthday Caravansarai 25.04.08
http://blip.tv/file/1159161
http://www.active-ingredient.net/caravansarai_backup/HomePage.html
Caravansarai is One Year old! To celebrate, the Virtual Chef Project explores birthday traditions and cake recipes from around the world. In Istanbul, Julie Upmeyer finds the ingredients for the meal and several birthday cakes, planned by Sarah Graddy in Gainesville, USA. On the night of the dinner, we receive real-time instructions on how to cook our meal in the Caravansarai kitchen. The entire process was viewable in real time on CITV, now viewable as an archived episode. The Virtual Chef: exploring, through food, the international and diverse aspects of Istanbul. It is a participatory cooking event in which a chef in another country instructs us how to make a meal here in Istanbul. www.caravansarai.info
————-
WORLDWIDEWEGG by Jaygo Bloom
http://www.worldwidewegg.com
The project is a low budget breakfast bar controlled by the daily habits of a bunch of hens on Gorgie City Farm in Edinburgh.
Each time an egg gets laid a signal is sent to the web enabled toaster (courtesy of arduino and my excellent colleague Ian Campbell!) sets the coils in motion and returns the action of egg laying to the gallery goers as hot toast for consumption! Not only that, on the breakfast table is a peck controlled iTunes soundsystem, each peck on the piezo mic' attached to the chicken feed bowl causes the 'Cock Rock Disco' playlist to skip forward a track – perpetual flutterings of chicken inspired songs!
Online the same egg laying response generates a single random number, after six numbers are generated / eggs are laid a lottery ticket is purchased online, therefore returning back to its source a percentage of funds recieved for this project! and hopefully making me a millionaire!