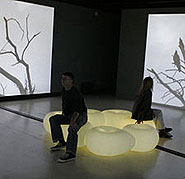 This text was originally published on NAICA during the summer of 2008. It is republished on NMF with permission.
Please visit NAICA to access all images and proper links.
The digital arena is sometimes viewed as a new mode of expression for Aboriginal involvement in art, culture and politics. However, at other times it is dismissed as something that does not fit or is perhaps unnatural for such an ancient culture. For Aboriginal Artists there are certain rules imposed: Bark Paintings and Weaving = Yes; Experimental Video and Web Art = No!
The question then seems to be, "Why can't Aboriginal artists just stick with their traditional art practices? Why do Aboriginal artists want to be included in mainstream shows, away from their own kind? How can the work be written about in terms of Aboriginality if it doesn't look like "Aboriginal Art"? Surely it is not a real cultural practice? It seems that Aboriginal people are expected to assimilate and give up their cultural and social practices, however, artistically the expectation is the reverse: keep those ancient artworks coming!
For a non-Aboriginal audience perhaps each of the terms needs unpacking: Indigenous, new, media and arts. But, as the title may suggest, naming and defining may be counter-productive, indeed impossible. Our focus here is a mapping, a snapshot in time, an overview, a sketching in of fields of active negotiation between *blak culture and new technologies, Indigenous voices and competing mainstream national or global narratives.
Mainstream "Australian Art" has mimicked and perpetuated the European Fine Art tradition since colonisation. Apparently it is vitally important that artists follow a certain line of artistic enquiry: going to the right art school, fine-tuning the right art form while studying under the right "expert" and recycling the right academic theory. If we were going to describe these notions in terms of music, we might liken them to 'classical'.
But, something different happened with the uptake of New Media Arts. It was 'new' so things were fluid. There were less rules and less reasons to care about them. As with all things experimental, there was and still is, confusion around the area of new media arts, even in the mainstream, the edges are blurry and it's definition as an art practice bleeds across forms. Perhaps a musical form to associate it with would be 'jazz fusion' or 're-mix?' In that context Aboriginal Artists could fit into the relaxed modus operandi, or all rounder approach, a little more readily.
Aboriginal New Media Artists sometimes borrow or mimic an array of styles from popular culture with references to advertising, and even documentary photo and film. In Australia, we don't often see ourselves represented in these arenas – unlike Indigenous peoples in other countries – we rarely see Aboriginal people on TV, in advertising, films or video games. When we do they are more than likely negative stereotypes. Like other Aboriginal artists before us in the 80's, we aim to redress this lack of representation in Australia and attempt to position ourselves into the mainstream picture, however using the same technologies that have been used to silence and keep us out.
Those Aboriginal artists working in New Media Arts today come from different backgrounds with regard to disciplines and diverse cultures, bringing a variety of skills such as electronics, visual arts, dance, spirituality, sound, information technology, the sciences, printmaking, communications, cosmology, theatre, film and TV. Now with the broad variety of input, maybe it's not just about the medium, but more importantly, the message. Aboriginal messages need to be disseminated now more than ever because of the cultural silencing through an oppressive thirteen year term of the right wing Howard government and the disbanding of the Aboriginal and Torres Strait Islander Commission. Fascist and apartheid practices have become the norm again, with an attitude of denial and exclusion prevailing towards the minority Aboriginal population. In this climate anything Indigenous is seen as political. So now, if the arts were music for our eyes, it might be considered a protest song – even if this is not the intention.
A number of Aboriginal artists and groups across the country have allowed their practice to evolve under the umbrella of New Media Arts, either in the interest of research, development, presentation and promotion. Whether for a one off work or an urge to maintain consistency in their chosen art forms, people such as Destiny Deacon, Michael Riley, Warlpiri Media, the Marrugeku Company, Brook Andrew, Karen Casey, Lucy Dann and Mayu Kanamori, Donovan Jampinjimpa Rice, Uniikuup Productions, Bangarra Dance Theatre, Aroha Groves, Genevieve Grieves and many others are all forging tracks in the area.
Image: Crying Baby, Marrugeku Company '99
Interdisciplinary artwork specifically describes a process that engages more than one single art form, either between different art forms or collaborations involving cultural and artistic differences. Crying Baby is a fantastic example of a large-scale interdisciplinary production. Devised and performed by the Marrugeku Company from Western Australia, Crying Baby consists of Urban Aboriginal Dancers and musicians, physical theatre practitioners from the Stalker Theatre Company and Kunwinjku dancers, story tellers and musicians from Gunbalanya, a remote community in Arnhem Land, Northern Territory. Crying Baby drew on performances, projections and other devices to impart multi layered notions of cultural survival. Due to the lack of funding and support for such large-scale events, this kind of production is rarely seen in Australia, but features in many festivals internationally for large arts-friendly audiences.
A few of the artists that have invested a great deal of energy into crafting a practice and also in developing the "movement" of Aboriginal New Media Arts in Australia are r e a, Jason Davidson and myself. Because we also work in a variety of disciplines and come from diverse backgrounds we have recently achieved some groundbreaking New Media artworks. Each of our works comment on our own Aboriginal experience while maintaining our own unique style and niche. Our works are also often more appreciated internationally than in Australia.
r e a is a Gamilaraay/Wailwan artist, originally from Coonabarabran, a remote town in New South Wales, but has been based in Sydney for sometime. She has a background in electronics in her mainstream employment and went on to study photography at the College of Fine Arts in Sydney and at post-graduate level including Digital Imaging and Design at New York University. She has a long history in the New Media Arts scene and her current practice mainly involves video and digital imaging processes. Her latest work, gins_leap/dubb_speak, is a video installation featuring the use of sensors to tell the stories of four women from her hometown and their homelands in the Warrambungal Mountains. It was the only Aboriginal artwork featured in the recent exhibition Contemporary Commonwealth (coinciding with the Melbourne Commonwealth Games) at the Australian Centre for the Moving Image.
Image: r e a, detail from 'gins_leap/dubb_speak' 2003-05, multi-channel projection, digital video, DVD playback, colour, sound 25:00
Jason Davidson a Gurindji/Mara/Nalakarn artist based in Darwin has a background in music and design. He studied visual arts at Charles Darwin University in the Northern Territory. His practice involves producing works that include elements of animation, video, music and his unique 'X-Ray' art style – hand drawn designs of animals and body organs. Jason's work, Kidney Problems in Aboriginal Australia Have Now Reached Epidemic Proportions, is an intricate x-ray art/sci-fi style design that was exhibited in conVerge – the 2002 Adelaide Biennial, a survey that focused on Arts/Science works. More recently his DVD Aboriginal Imagination features animations and video that proactively engages with areas of biomedical function of the kidney. He produced the work coinciding with his research in cross-cultural communication breakdown in a Masters of Health degree program at the Tropical Health Institute.
Image: Jason Davidson, detail from 'Aboriginal Health Education', DVD, 2002.
Part of my own artistic practice involves developing new media works, installations and websites with a background in filmmaking and education. I studied through the Queensland University of Technology in Brisbane. other[wize] celebrates the lives of Yugambeh family members that were moved from their traditional home-lands to work on pastoral properties in the Gulf of Carpentaria and explores non-linear documentary work as an art form. The project highlights an era of late 1800's/early 1900's colonial Australia and explores the prickly issues of Native Policing, dispossession, displacement, massacres and survival. Nine stories are told through the use of family photographs and text, including Yugambeh language and historical documents, and also, contemporary exploration of country through video, audio and digital photography, including projections, a CD-Rom, prints and installation.
My personal commitment to giving back to the community includes founding cyberTribe – an online art gallery that features the works of Indigenous Artists internationally. With a regular program of exhibitions, both online and other galleries, it fills a much needed space for appreciation of work by those Aboriginal artists labeled "Urban" because they are creating conceptual / new media / contemporary artwork, commenting on individual and collective experience.
image: Jenny Fraser, detail from 'other[wize]', Interactive CDRom, 2005.
We need to address enduring questions of Indigenous culture in Australia, those to do with survival, representation, control and documentation, but on our terms. It needs to be asserted that Indigenous art, culture and politics are inter-dependent and cannot be separated. The arts is one of few avenues in Australian society where Aboriginal people are allowed a voice and fortunately this is driven by the outside international art market influence. In some ways, showing art is a direct line to the outside and the messages do get out. Aboriginal Artists have a responsibility to tell it how it is.
The production areas defined as 'New Media Arts' have allowed the space and recognition for self-determined, culturally specific and diverse sources of creativity, exchange and community building. These will be crucial to the ongoing maintenance of Aboriginal New Media Arts practices. It would be music to our ears if this was recognized by the mainstream Australian arts world, but it is not entirely necessary.
LINKS: (click to follow)
cyberTribe
r e a
Jenny Fraser
other[wize]
Jason Davidson
* the term Blak was developed by Artist Destiny Deacon as a part of a symbolic but potent strategy of reclaiming colonialist language to create means of self-definition and expression.