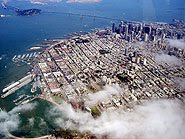 A Festival of Locative Media and Urban Community
June 11– 13 & 19, 2010
Sponsored by the Center for Locative Media, Gray Area Foundation for the Arts, KQED, Conceptual Information Arts/Art Dept/San Francisco State University, the City of San Francisco, and the Berkeley Center for New Media
http://www.gaffta.org/projects/city-centered/
Invitation to submit proposals
Submission deadline: March 1, 2010
About the festival
Recent exhibitions, festivals and conferences across the US and in Europe have taken wireless networks, public space, locative media and urban environments as sites of intervention, creativity, and critique. Formulated within the emerging context of networked urbanism and mobile media, City Centered: A Festival of Locative Media and Urban Community will focus upon dynamics of the shifting, locative, cartographic and social space of the city. It is organized by educational, arts, community-based and civic organizations and asks how locative media can act as a platform and venue for community-led expression. From within San Francisco's Tenderloin district, this festival will celebrate the rich possibilities that art and technology offer for urban communication of place and place-based media. City Centered focuses on the use of locative media and wireless technologies for site-specific and neighborhood-based interventions. Artists, designers, architects, community and cultural workers —people, places, and devices — will meet for four days of street-side celebration, public exhibitions, a symposium, and workshops. The festival seeks new work aligned with the themes of creative mapping, urban storytelling, sentient space, body awareness, local history, contested spaces and gaming.
The festival's main goals are:
o to promote creative public use of free wi fi and open networks in the city of San Francisco
o to encourage meaningful collaboration between artists and local organizations in connection with wireless networks
o to introduce site-specific locative media art to urban places Logistics and creative goals Proposals are invited around projects involving creative mapping, urban storytelling, body awareness, local history, contested spaces and gaming. We seek projects of the greatest interest and highest quality. That said, proposals should be created for or be highly relevant to urban communities such as those found in San Francisco's Tenderloin district. Neighborhood, mapping or community-based projects adaptable to the district are desirable. All proposed projects should address the theme of 'urban community' and utilize wireless technologies in some relation to 'location' and 'place.' Imaginative responses to the district and critical interpretations of place are strongly desired. Proposals which include or seek to include collaboration with Tenderloin/Civic Center organizations will receive greater consideration than projects which do not. Projects using locative media to explore unique histories in the Tenderloin and/or address the festival's aims of fostering creative civic engagement are also sought. Members of local community-based organizations will review all submissions and identify proposals that they wish to support.
In addition, creative work is encouraged to engage with the following questions:
What does neighborhood mean? How might urban communities speak effectively about their cities through use of wireless networks? Where do wireless creative practices intersect with and/or enhance citizen roles in civic engagement?
Themes
Creative mapping
Location based media has so far involved much discussion of the role of maps, both their local and geopolitical importance, their history within political structures and the potentials of self-made or self-informed maps in terms of the production of and shaping of urban space. GPS and other applications enable the making of highly personal and information laden online spaces. What is cartography? What is mapped identity? How can groups and populations better see themselves, their history and their futures in the realm of maps?
Urban storytelling
Stories of the distant past or recent memory help hold groups together. Community groups and cultural critiques often address whose stories are told, and how. In San Francisco, the mural is a traditional form of commemorative media, making communities' histories and concerns visible on the walls of their buildings. What remains invisible? Can wireless technologies enable understandings of the past — both accepted and controversial?
Sentient space Surveillance cameras, motion sensors, and electronic forms of payment have moved substantially into public space. Computational means of tracking and responding to human actions increasingly pervade the urban infrastructure. San Francisco has recently deployed a test run of networked, sensor-based parking meters. Other cities have introduced wireless, networked monitoring of water systems, electrical grids and so forth. Is this the emergence of new 'sentient cities' or an extension of automated modernity started a century ago? How might we imagine and make debatable the ways in which networked information processing animates, invades, enables or undermines urban places?
Body awareness Often seen as places of strangers and strangeness, modern cities are places where, unlike villages, one can find both welcome anonymity and undesirable alienation. Ambivalence about relations between self and others experience has been a feature of urban life since the 19th century: we want to fade into the crowd, but also feel connected. What kinds of awareness of other humans—or non-humans such as animals, plants and trees—remind us of liminal and subliminal arenas of urban growth and transformation? How do embodied experiences — of crowds and solitude, of comfort and anxiety — relate to awareness of self and others?
Local history
Locative media can be used to express specific attributes of place through local history, connecting us to and with histories of architecture, urban space, the changing city and the combinations of news, folklore, and data flows which allow us to interpret and understand where we live. How can local history be mapped? Is it collaborative or authorial? What kinds of stories constitute the history of a place? What kinds of data are place-based?
Contested spaces
Art projects are never neutral. Even in evading explicit discussion of politics or controversies they take a stand with respect to a community of makers and audience of participants, listeners, or seers. In particular, projects of civic engagement rely upon (often unstated) aspirations about urban life. This is so especially when situated within specific communities and drawing upon their hopes, desires and dreams. We invite projects framed as interventions in contested spaces; that work with intervention as an art practice and that introduce new forms or contestation or expand upon the already established path of community-based art in San Francisco.
Gaming
Gaming takes on many unusual forms in today's media-saturated culture. Moreover, young people constitute one of the most prolific and literate groups of wireless users—and many enjoy gaming. Implementing simple urban games can sometimes tell participants much about themselves and their awareness of and connection to fictional and emotional aspects of place. What kinds of narratives are appropriate in challenging neighborhoods? How can games be used to deal with social ills or help inhabitants navigate through periods of urban change?
Technical forms
Locative media involves an emerging cluster of technologies that include mobile phones, Global positioning satellite systems (GPS), geospatial databases and wireless networks. These technologies enable inter-connectivity between locations, determine locations and mapping and enable participation in storytelling and games. They have become increasingly ubiquitous in our daily lives and public spaces, and are radically changing how people work and live. In addition, these technologies raise complex questions about public/private rights, laws and responsibilities. The festival encourages submissions in four areas of creative technical practice:
Data visualizations of information What data is relevant to Tenderloin inhabitants? How can visualization expose previously unrecognized patterns of exchange and which change the experience of familiar locations? Mapping and cartography Maps produce and represent information about the meaning of place. Locative practices often engage the location-aware/context aware aspects of tools/networks, pinpointing and demarcating places according to creative interpretation. Participatory media How can projects weave diverse groups and foster conditions for increased civic engagement, learning, and questioning? What barriers to civic engagement and participation are there and how might they be overcome?
Location tracking Tracking the movement of people and objects can also record and augment experiences often unrecognized or culturally invisible. What kinds of movements of people and goods combine to form the economies and exchanges of a neighborhood? What kinds of human movement alters the way we might think or conceive of a place and its changing milieus? Games and playful interventions Introducing ideas of competition, speed, and fantasy into city streets may help engage local inhabitants, young people, kids and onlookers in experiences they see as new, surprising or special.
Project criteria
Proposed art must have some place-based and/or locative aspect such as utilizing GPS or GPS and the web; utilizing cellphones or other mobile media and address site specifics or place-making. Projects which address sites or cultures of the Tenderloin and/or collaborate with Tenderloin based constituents, populations or organizations are encouraged. The festival seeks project proposals which specifically contend with and/or engage with the multiple languages, communities, and interests of the Tenderloin, and which utilize the variety of public urban sites available in some meaningful and site specific form. Playgrounds, schools, public lobbies, gallery space, community centers, sidewalk areas, the street, parking lots, rooftops, and open plazas all provide excellent inspiration for wireless public projects and locative media works.
Other criteria and creative/artistic priorities:
Projects must be designed for or adapted to locations in or in close proximity to the Tenderloin. Existing projects that can be adapted to the Tenderloin are welcomed. Priority will be given to submissions by those who have community art experience or have worked with populations in urban neighborhoods.
About the Tenderloin and Civic Center San Francisco's Tenderloin district is a densely populated, rapidly changing, loosely defined district with apartment buildings, singleroom occupancy hotels, nightclubs, bars, galleries and restaurants. Located near San Francisco's cable car tourist attractions, downtown convention center hotel district and Union Square, it is a flourishing, multilingual and multiethnic neighborhood home to many artists and galleries. Yet the Tenderloin is also notorious as a concentrated site of misery, known for violent crime, prostitution, drug addiction, and homelessness. Recently, the city has devoted considerable attention and resources to redevelopment in the Tenderloin, making engagement with locally led organizations a priority. There are numerous multilingual, multicultural organizations with substantial art programs –Glide Memorial Church, Hospitality House, the YMCA and The Boys and Girls Club. It is also site of the Main Library, the center of San Francisco's public library system. The festival's close proximity to San Francisco's administrative buildings and historic Market Street make it an especially intriguing arena for urban artmaking and location based creative practice. Free wi fi exists in the library system and wireless is found throughout the Tenderloin. More specific technical questions can be addressed once proposals are selected. The Gray Area Foundation for the Arts at 55 Taylor Street in the Tenderloin and will operate as base for the festival and will assist artists to work with the neighborhood in the installation of their projects. In addition Gray Area has a window installation venue Tendorama to which proposals can be specifically made, and will offer information about organizations with which to partner. The Gray Area Foundation for the Arts (http://www.gaffta.org/) is a San Francisco-based nonprofit dedicated to building social consciousness through digital culture. Guided by the principles of openness, collaboration, and resource sharing, our programs promote creativity at the intersection of art, design, sound, and technology. Its goal is to make digital culture accessible, substantive and inspiring from the physical neighborhood of the Tenderloin to extended digital communities. GAFFTA is committed to outreach both online and in the city.
Selection process
Proposals will be reviewed and selected by a panel of artists, curators, arts and community organizations.
Timeline
Proposals due: March 1, 2010
Participants notified: on or before April 1, 2010
June 11–12: Opening and art exhibition
June 13: Symposium
Community Workshops: June 19
Friday, June 11: Art opening and introduction to the symposium at GAFFTA
Saturday, June 12: All-day art festival of interactive, locative works in the Tenderloin sponsored by Gray Area.
Sunday, June 13: City-Centered Symposium at KQED, hosted by KQED and SFSU.
Saturday, June 20: Community education workshops at KQED in the Mission District
Further information and questions
Please direct questions and other correspondence to citycentered@gaffta.org. Or see our website at
http://www.gaffta.org/projects/city-centered/.
********
City Centered
A Festival of Locative Media and Urban Community
Project proposal guidelines
Submission deadline: March 1, 2010
Project proposals can be submitted for any or all of three events:
o Exhibition of wireless art and locative media (opening June 11, organized street activities and tours June 12 around locations in the Tenderloin, continuing exhibition by agreement between artists and sites) Art proposals should explicitly reference the themes and criteria suggested above. While the organized festival activities take place on June 12–19, projects may remain indefinitely installed for as long as their makers and the installation sites wish. The festival encourages and will promote longer-term installations, but recognizes that project duration may vary based on the type of work and the site of installation.
o Practitioner and educator symposium on locative art practice (June 13)
The Symposium is an all day event, with six 20-minute presentations and targeted break-out sessions
o Community education workshops (June 19)
Community workshop proposals should be specified for six, three, or one hour time slots.
If you are submitting proposals for two or more of the events, your proposal should include the summary section and as many of the
following sections as relevant.
Please submit the proposal as a single pdf file in 8/12" by 11" format. Proposals should be submitted as emailed attachments to citycentered@gaffta.org. Please read instructions carefully before submitting supporting files.
I. Summary
Summary section should include
o Project/presentation/workshop title
o Contact information for project liason: email, phone, mailing address for one person whom we can contact
II. Exhibition proposal
a) Project description (2pg at most)
o Description of the project and how it responds to festival themes and technical narratives
o Where will this project be located, both physically and digitally? For the purposes of submission, it is acceptable to list a generic
site (street, plaza, etc). However, if you have a specific idea of where the project might be sited in the Tenderloin, please list it. Will you need digital hosting?
o Planned duration of project installation. Also, is the project accessible only once, periodically, or throughout the two weekends?
o What kind of audience do you imagine for this project?
o How will people interact with the project? Please describe how they will first encounter the project, how long you imagine the interaction might take, and whether there is a specific time at which the project is best seen.
o If this project involves active participation by community members or the general public in envisioning and creating objects or events, how do you imagine inviting participation and then structuring the project's relationship with them?
b) Implementation (2pg at most)
o What are the technical requirements for this project? What kind of equipment, wireless access, power connections, etc will you be
bringing and will you require us to supply?
o What are the maintenance demands over the course of exhibition? Will it need supervision?
o What is the status of the project? Is it completed or still in development? Please note that we welcome proposals that are still in progress, but would like to have full information about the project's needs so that we can better support it.
o Is there any additional support that would be helpful in terms of supplying technology, logistics aid, site permissions and recruitment, local contacts, etc? Again, we welcome proposals that are still in development, but would like to make sure that we offer all assistance that we can.
c) Team information
Please provide a short (100-200 words) biography for each team member, clearly indicating each member's role in the project. Please include relevant education, awards, exhibitions, other professional activities. Artists statements also welcome.
d) Supporting material Please include any files — photographs, drawings, diagrams, videos, or other media — that you feel necessary to support your proposal. We prefer digital submission of files, but hard copy submission is also acceptable. We will accept both hard copy and digital formats including 35mm slides, video (VHS NTSC format), cassette audiotapes, CD-ROMs, URLs (please specify browser version and plug-ins), color copies and/or other printed materials. Videos should be under 10 minutes in length. If under 2MB, files can be attached to an email and sent with the proposal. Please include links to online files within your proposal PDF if the files are over 2MB. If you send hard copy documentation, please include a self-addressed stamped envelope with adequate postage for return. Otherwise, we will not be responsible for returning your submitted materials. Please make sure that any mail will be received
by March 1, 2010. Mail can be sent to:
City Centered
Gray Area Foundation for the Arts
55 Taylor St.
San Francisco, CA 94102
Please include include a list of any supporting files to with your proposal.
III. Presentation proposal
a) Project description (1pg at most)
o Short description of the presentation and how it responds to festival themes and technical narratives
o What kind of audience do you imagine for this presentation?
b) Team information (if not provided elsewhere)
o Please provide a short (100-200 words) biography for each team member, clearly indicating each member's role in the project.
Please include relevant education, awards, exhibitions, other professional activities. Artists' statements also welcome.
IV. Workshop proposal
a) Project description (1pg at most)
o Description of the project and how it responds to festival themes and technical narratives
o What kind of audience do you imagine for this project?
b) Workshop requirements
o Duration of the workshop and planned schedule for the time. How many people can attend it?
o What are the technical requirements for this workshop? What kind of equipment, wireless access, power connections, etc. will you bring and will you require us to supply?
c) Team information (if not provided elsewhere)
o Please provide a short (100-200 words) biography for each team member, clearly indicating each member's role in the project. Please include relevant education, awards, exhibitions, other professional activities. Artists statements also welcome.
Timeline
Proposals due: March 1, 2010
Participants notified: on or before April 1, 2010
Friday, June 11: Art opening and introduction to the symposium
Saturday, June 12: All-day art festival of interactive, locative works in the Tenderloin sponsored by Gray Area.
Sunday, June 13: City-Centered Symposium hosted by KQED and SFSU.
Saturday, June 19: Community education workshops at KQED in the Mission District
Links
KQED: http://www.kqed.org/
Gray Area Foundation for the Arts: http://www.gaffta.org/
Center for Locative Media: http://www.locative-media.org/
Conceptual Information Arts/Art Department/SFSU: http://userwww.sfsu.edu/~infoarts/
The Berkeley Center for New Media: http://bcnm.berkeley.edu/