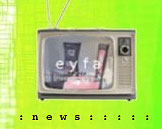 'Audio on the Move' seeks to highlight creative, artistic works which problematize the concept of communication and 'location' through the use of [particularly] audio and movement. Previous works have been: "Karaoke Ice" and "Invisible 5" – both in the NMF archive.
—
PROJECT #3: European technoculture: EYFA Art and Activism Caravan 2006
European technoculture never loses its social grounding in the politics of networks, their architectural value and meaning. In a series of projects including The Transmigration of Cinema events and now this summer caravan, European youth arts and activists from eastern and western fronts engage in a kind of information war of their own making- taking on poltical and especially environmental issues as they string themselves out in a series of art and activist explosions across borders. There is an amazing vitality to this effervescent anarchy; an outpouring of recombinant energy; an appeal to empowerment; a committment to collective action.
Reading from one of the promotional postcards for the Transmigration of Cinema event:
"If mass media has become ground zero for the colonization of dreams, and arts and culture now resemble ground beef at 99 cents a pound from the Spectacle's butcher shop, the XL Terrestials [as they affectionately call themselves] will soon arrive on the set to re-adjust your picture and put some pure grade reality and higher intelligence back on your plate."
Reading from the Indymedia UK website from an article entitled, "Creative activist roadshow in east-west collaboration" is the following description:
The Art and Activism Caravan is a border crossing project, starting early June, travelling for 3 months from Greece via Macedonia, Albania, Montenegro, Serbia, Bosnia Herzegovina and Hungary to the eco-activist gathering Ecotopia in Slovakia. Its aim is to support and connect youth, campaign, community and activist groups, their actions and campaigns with creative forms of activism. The participants will share skills in the field of video, creative writing, music and dance, sculpturing, street performance, drawing and painting, samba and screen printing.
Collectives: EYFA (European Youth For Action), Candida TV (video collective, Italy), Rhythms of Resistance (samba), The Mischief Makers (creative activist collective, Nottingham), Undercurrents (UK video collective), Karahaber (video news network, Turkey), Loesje (creative writing), Rebel Clown Army and VideA (video collective, Balkans).
Local hosts: Medsos (Greece), Bitola Youth Forum (Macedonia), Mjaft (Albania), Plagus_M (Serbia & Montenegro), In Stage (Serbia & Montenegro), Kulturanova (Serbia & Montenegro), Tuzla Live (Bosnia & Herzegovina), Uruk (Bosnia & Herzegovina) and ZoFi and Valley of Arts (Hungary) and Ecotopia (Slovakia). Artists participating are from Norway, Turkey, Italy, The Netherlands, UK, Ukraine, Germany and Armenia.
Links:
Creative activist roadshow in east-west collaboration
http://www.indymedia.org.uk/en/2006/04/339230.html
The Caravan website:
http://eyfa.org/art_activism
___
'Audio on the Move' is edited by Molly Hankwitz