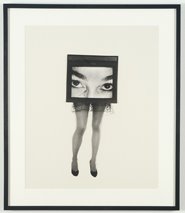 Image: Lynn Hershman, "phantom limb 1, tv legs" gsp print 1986 courtesy paule anglim gallery/bitforms gallery
http://www.varoregistry.com/hershman/index.html
"Edge Conditions" at the San Jose Art Museum, part of the ZeroOne/ISEA 2006 event in San Jose this past week, was a quite wonderful trip through conceptual art history as it intersects with electronic media. The formalist installation piece "Listening Room" an audio reiteration of chat room "babble", the VRML world paintings navigable by joy sticks, the early photocollage work by Lynn Hershman, especially "TV Legs" and "Ruby's Mood Swings" and Ken Goldberg's curious super-miniaturization of Frank Lloyd Wright's "Falling Water" to 1.1 millionth nano scale, not to mention the large TV robot by the late Nam Jun Paik, suggested to this writer, elements of the post-war requestioning of high art and its comfortable/discomforting cross- pollination with electronic media; the playfulness of Fluxus and Conceptual Art's murmurings in the dematerialization of the art object aka Lucy Lippard's extraordinary compilation of works on same subject. The abundant and excellent curation made this exhibit an easily digested compilation of pleasing moments in the spectrum of electronically influenced, at least, art, thoroughly enjoyable in its physical presence, beauty and accomplishment at reasonably small cost to the general public and to children.
Speaking of Lynn Hershman, where should I begin. She's a well recognized grand dame of electronic art innovation and feminist art. I first met her in 1993 when I was busy selling experimental artists books and artifacts of conceptual art. I wrote something on her book, Chimaeras, for ART PAPERS. She showed me the Roberta Breitman archive and some very early early works of art she had made at her home. I visited her Nob Hill studio and looked through more of the paper archives for a seminal experimental mobile exhibition venue [it had no physical space thus went from venue to venue] she invented called "The Floating Museum." I hold Lynn's work in very high esteem precisely because she manages to tie popular culture and forms into the sophisticated and elaborate narratives of her installations and films. Such is found in the new work, the film she is making on Steve Kurtz's legal predicatment. "Strange Culture" , a work in progress, which I saw at ISEA 2006/ZeroOne at Cinema 12 was a breath of fresh air at the festival/gathering because it had lots of political relevance in its content. Hershman is making a film which shows clearly how the FBI investigation of Kurtz has served to silence the artist's meaning and intentions. She has made the interesting, creative decision to spend much screentime thus, showing his recent, controversial artwork; what was to have been shown at MassMOCA before the arrest. This gave the audience a point of entry into Kurtz' main social and political interests and demystified the work of the Critical Art Ensemble as "dangerous." However, it also demonstrates why the strenght of his ideas about public information on GMO foods in everyday life, would be contentious for agrobusiness. She builds a case to show that the FBI information has blown Kurtz'"crime" out of proportion and clearly illustrates motivations for censorship. Her film priveleges, above all, the notion that his art – very public and critical indeeed – is information worthy of exhibition by including much of the installation in the movie and making it "visible." The film then becomes a vehicle for the artwork's exhibition, as well as an homage to Kurtz, a well respected artist and academic, and when distributed will provide an alterantive story angle on the case, while uncensoring the art! This is one particular element of Hershman's work that makes her very special. She has a history of confronting obstacles and being controversial and going to bat for artists. In doing so she often puts herself and her authority in the firing line. Documentary film takes on stories and she has taken this one on. Civil liberties in the US are being eroded piecemeal by the Patriot Act which, in its exercise of power betrays the myopic imbalances embedded into the American system of lavish corporate freedoms and limited personal voice. Hershman astutely pinpoints the simple value of media as a human, public, storytelling element; its broadcast and distribution as a form of truth, activism and rebellion – a breath of fresh air in these darkened times. "Strange Culture" was the closest I came in my visit to the ISEA 2006/ZeroOne festival, to finding much cogent "meaning" for the efficacy of art as a public venue for ideas.
—
Molly Hankwitz is co editor of NewMediaFix and a collaborator in the research and design collective, Archimedia. http://archimedia.sytes.net. She writes about art, media and social design. She teaches at the Art Institute of California, SF.
__
Related links:
Edge Condition
http://01sj.org/content/blogcategory/170/128/
http://www.varoregistry.com/hershman/index.html